Current Students
Student groups
Diversity Awareness Group (DAwGs)
The Diversity Awareness Group was formed as a means of academic and peer support for underrepresented students at the University of Washington, School of Nursing. We encourage scholarship, collaboration, networking and leadership through the community on and off-campus.
Future Nurses Club
Mission
The mission of the Future Nurses Club is to provide mentorship from current UW nursing students to undergraduate students – especially underserved and underrepresented individuals who have not yet been admitted to the nursing program.
Vision
We serve as a bridge from current BSN students to undergraduate students interested in learning more about the field of nursing, getting involved in service-learning projects and connecting with other students with similar interests.
We support and advocate for future nurses regardless of race, ethnicity, citizenship status, religion, educational and socioeconomic status, disability, age, sex, gender identity, and sexual orientation.
Club objectives
Provide perspective and insight to help prepare and support Pre-Nursing students.
Advise students about the application process using information directly from the School of Nursing.
Expose prospective students to the roles of a nurse and their importance in the healthcare field. This includes meeting with current BSN students and nurses of various specialties.
Emphasize and encourage diversity within nursing by creating a safe space for open dialogue.
Collaborate through service-learning (UW Nurse Camp, Mary Mahoney, high school students, community colleges, etc.)
Network with like-minded undergraduates; support peers through the process of applying.
Health Equity Circle

Health Equity Circle is an interdisciplinary group of Health Sciences students who advocate for upstream changes that affect the social determinants of health. We focus on creating community partnerships and through them, work to organize and leverage our power as students of one of the nation's top research universities.
Health Equity Circle educates, organizes, and mobilizes interdisciplinary groups of students, health professionals, and community members to work upstream to shift power toward health equity and address the social determinants of health.
We envision a world free from the threats of health injustice and inequity.
The focus of our organization has three main aspects:
Education – Working with our campus and in the community, we teach the effects of the social determinants of health and discuss how social equity can benefit health outcomes
Advocacy – As future health professionals, we see issues in our patients caused by structural violence. We understand the power we have and utilize it to advocate for our patients and communities
Leadership Development – We work within the school and community to learn how to better work with diverse groups and provide training to allow our peers to learn how to effectively advocate
unicoRN LGBQTTSIA+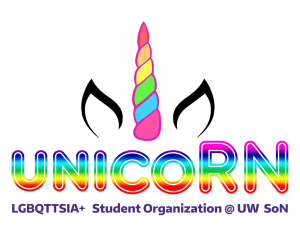 unicoRN is a student organization that was created to:
Create safe places for LGBQTTSIA+ and ally students, staff, and faculty to connect.
Advocate for LGBQTTSIA+ health equity in the School of Nursing.
Engagement in the community by means of service, networking, and clinical.
Provide mentorship and personal development opportunities for students who wish to engage with and are passionate about the LGBQTTSIA+ community.
Western Washington National Association of Hispanic Nurses (WW-NAHN)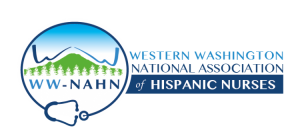 The Western Washington Chapter of the National Association of Hispanic Nurses (WW-NAHN) is a local chapter of NAHN. Our local WW-NAHN provides a means of academic, peer, professional, financial (scholarships), community building, and cross-cultural support for Latinx students, faculty and staff at the University of Washington School of Nursing.
We are inclusive and welcome all of the UW School of Nursing community to connect with us and collaborate to advance nursing workforce diversity to eliminate health disparities. Our strategies include:
Mentoring and "in-time" advising to ensure recruitment and retention of Latinx students
Supporting the SoN's diversity and inclusion work with prospective and enrolled students who self identify as Deferred Action Childhood Arrivals (DACA)
Aligning the SoN's Community Health Nursing & Social Determinants of Health curricula with extracurricular volunteer opportunities that enhance the Latinx patient/client health outcomes
Aligning the SoN's Health Policy curriculum with civic engagement opportunities
Guiding students in their trajectories to developing after college professional goals
Providing/identifying health disparities research to advance marginalized and underserved Latinx populations
Increasing awareness about wrap-around support for all students in all UW School of Nursing student organizations and leadership groups