Current Students
Simulation Center
This page has information for students attending classes in the UW School of Nursing Simulation Center. For more information about the the UW SoN Sim Center click here.
Keeping students safe in the Simulation Center
The Sim Center policy will now reflect the most current campus requirements.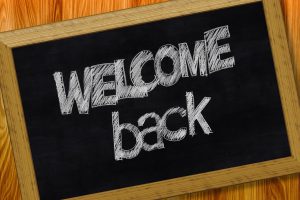 If you have classes scheduled in the Sim Center please review the below updates. Please be patient with our team as we work to revert the spaces and our course planning delivery process to the new normal.
Masks and PPE are required for ALL students and faculty in the Sim Center!
Physical distancing and occupancy limits in the Simulation Center: 
Per university guidelines, there are no physical distancing requirements for vaccinated students and faculty, and therefore we will be transitioning to pre-pandemic occupancy in sim center spaces. Students may work in close contact without time restrictions. All student spaces in the Sim Center are equipped with high efficiency air filter systems for your protection. 
Symptom screening, contact tracing, and employee attestation:
Students do not need to complete symptom screener or attestation before coming to the Simulation Center, and UW employees do not need to complete a symptom attestation. Of course, we continue to encourage folks to stay home if they are unwell. We will continue to use the Sim Center contact tracing form both to track attendance and as needed for contact tracing.​​​
We are excited to begin to return to campus and expand face-to-face learning experiences in the Simulation Center. Thanks to everyone- faculty, students, and staff- for your patience and understanding as we navigated this tricky time. We are happy to say that as far as we know, there were no cases of COVID 19 directly related to sim center activities and we have everyone's cooperation and hard work to thank for that. Feel free to reach out to the Simulation Center with any questions.
Preparing future nurse leaders through simulation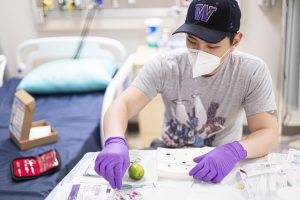 The Simulation Center provides a safe, supportive and controlled environment in which students at all learning levels are able to practice skills, role-play patient care scenarios and gain leadership experience in clinical- and community-based care settings.
Experiential learning through simulation
Enhanced experiential learning opportunities through simulation encourage our students to not only build on the knowledge they've gained in classwork but also to develop critical thinking skills.
Simulation provides students the ability to make mistakes, reflect on their decisions and take corrective action so that when they are in a real-life setting, they have the competence and confidence needed to provide the highest quality and safest patient care.
Learning objectives
Learning in a modern simulation center setting provides a realistic, professional experience for nursing students.
Clinical skills: There are basic skills that every nurse must know: CPR, how to start an IV, inserting a catheter, and more. This environment ensures nurses are proficient and ready to care for real patients.
Critical thinking: Nurses learn how to interpret, analyze, evaluate and act on important information about a patient in order to provide the highest-quality care possible. Strong critical thinking skills can mean life or death to a patient.
Familiarity with real-life healthcare settings: The simulation center will use state-of-the-art equipment and technology commonly found in real-world healthcare settings. This not only provides an authentic experience but prepares nurses to make important equipment decisions after graduation.