Current Students
Simulation Center
Keeping students safe in the Simulation Center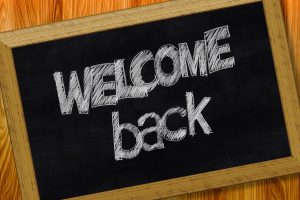 Hopefully, you have had a chance to see the announcement from the President regarding changes to the campus COVID-19 policies. The good news is those changes will also allow us to relax our Simulation Center occupancy restrictions, masking requirements, social distancing, and attestation/screening policies. If you have classes scheduled in the Sim Center this summer or are planning for fall, please review the below updates. Please be patient with our team as we work to revert the spaces and our course planning process back to the pre-pandemic setup. We are staffed for limited support through the summer but anticipate being able to provide on-site support in the fall.
The Sim Center policy will now reflect the most current campus requirements.
Masking/PPE for classes in the Sim Center:
Masks and PPE are not required for vaccinated students and faculty in the Sim Center!
New Campus Policy: 
​​​​​​​Changes to face covering and distancing policies
All University units must follow the updated UW COVID-19 Face Covering Policy. Following federal, state, and local health guidance, as of July 7, face coverings are optional for fully vaccinated individuals at UW campuses and facilities, with specific exceptions that include health-care and child-care facilities, and UW shuttles. You must continue to wear face coverings in these settings, regardless of your vaccination status.  Consistent with state regulations, individuals who are not fully vaccinated must continue to wear a face-covering indoors at all UW campuses and facilities, in accordance with the UW Face Covering Policy. Individuals who are not fully vaccinated should also consider wearing face coverings outdoors when distancing is not possible.
If you and your students are coming to the Simulation Center this summer, please see the UW process to verify vaccination status:  
How to verify your vaccination status
Starting today, we ask students and employees to either verify that they have been fully vaccinated or declare a medical, religious or philosophical exemption:
Physical distancing and occupancy limits in the Simulation Center: 
Per university guidelines, there are no physical distancing requirements for vaccinated students and faculty, and therefore we will be transitioning to pre-pandemic occupancy in sim center spaces. Students may work in close contact without time restrictions. We do not require PPE, however, we do encourage masking for extended close contact activities, but it is not required.
New Campus Policy:
Physical distancing, capacity and other updates
Based on state guidance, today the UW is also lifting both indoor and outdoor distancing and COVID-19 capacity requirements, though distancing is still recommended for unvaccinated individuals.
Symptom screening, contact tracing, and employee attestation:
Students do not need to complete the CDC/Apple symptom screener before coming to the Simulation Center, and UW employees do not need to complete a symptom attestation. Of course, we continue to encourage folks to stay home if they are unwell. We will continue to use the Sim Center contact tracing form unless otherwise indicated.
 New Campus Policy:
Symptom attestation continuing only for clinical personnel, child-care
Effective July 7, UW employees will no longer be required to complete the daily COVID-19 symptom attestation in Workday prior to working on-site unless they work in a clinical or child-care setting. UW Medicine clinical personnel should continue to follow UW Medicine policies and procedures.
All individuals are still required to monitor symptoms daily, stay home if they are sick or experiencing COVID-19 symptoms, and report to EH&S or UW Medicine employee health if they test positive for COVID-19 or have had close contact with someone who tested positive, regardless of their vaccination status. ​​​​​​​
We are excited to begin to return to campus and expand face-to-face learning experiences in the Simulation Center. Thanks to everyone- faculty, students, and staff- for your patience and understanding as we navigated this tricky time over the last 15+ months. We are happy to say that as far as we know, there were no cases of COVID 19 directly related to sim center activities and we have everyone's cooperation and hard work to thank for that. Enjoy your summer and feel free to reach out to the Simulation Center with any questions.
Preparing future nurse leaders through simulation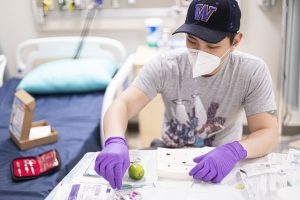 The Simulation Center provides a safe, supportive and controlled environment in which students at all learning levels are able to practice skills, role-play patient care scenarios and gain leadership experience in clinical- and community-based care settings.
Experiential learning through simulation
Enhanced experiential learning opportunities through simulation encourage our students to not only build on the knowledge they've gained in classwork but also to develop critical thinking skills.
Simulation provides students the ability to make mistakes, reflect on their decisions and take corrective action so that when they are in a real-life setting, they have the competence and confidence needed to provide the highest quality and safest patient care.
Learning objectives
Learning in a modern simulation center setting provides a realistic, professional experience for nursing students.
Clinical skills: There are basic skills that every nurse must know: CPR, how to start an IV, inserting a catheter, and more. This environment ensures nurses are proficient and ready to care for real patients.
Critical thinking: Nurses learn how to interpret, analyze, evaluate and act on important information about a patient in order to provide the highest-quality care possible. Strong critical thinking skills can mean life or death to a patient.
Familiarity with real-life healthcare settings: The simulation center will use state-of-the-art equipment and technology commonly found in real-world healthcare settings. This not only provides an authentic experience but prepares nurses to make important equipment decisions after graduation.