Current Students
Simulation Center
Keeping students safe in the Simulation Center
The UW School of Nursing Simulation Center is dedicated to supporting students' safe return to campus for essential hands-on learning. Our utmost priority is the safety of faculty, students, and staff and we have implemented strategies to maintain safe physical distancing and allow for proper sanitation between students/sessions while taking into consideration the unique learning needs of the programs we support. The following document outlines the protocols, policies, procedures, and guidelines that must be followed to maintain a safe learning environment. These Guidelines are in alignment with the University of Washington COVID-19 Prevention Plan for the Workplace, Safe Start Washington guidelines, CDC recommendations, and community best practices in simulation center operations, higher education, and public health.
The Simulation Center has developed UW School of Nursing Return to Simulation Center Plan  that addresses the 6 required elements as established by the University of Washington COVID-19 Prevention Plan for the Workplace, plus additional Simulation Center- specific considerations and responsibilities of faculty, students, and Simulation Center staff. Visitors, guests, and vendors must have permission from the Simulation Center Director or Assistant Director to enter the Simulation Center and are expected to follow all signs and instructions provided, including those for safe distancing and use of PPE. All users of the Simulation Center must provide visit information including name, date, time, and contact information for the contact tracing log.
Preparing future nurse leaders through simulation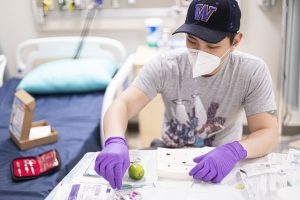 The Simulation Center provides a safe, supportive and controlled environment in which students at all learning levels are able to practice skills, role-play patient care scenarios and gain leadership experience in clinical- and community-based care settings.
Experiential learning through simulation
Enhanced experiential learning opportunities through simulation encourage our students to not only build on the knowledge they've gained in classwork but also to develop critical thinking skills.
Simulation provides students the ability to make mistakes, reflect on their decisions and take corrective action so that when they are in a real-life setting, they have the competence and confidence needed to provide the highest quality and safest patient care.
Learning objectives
Learning in a modern simulation center setting provides a realistic, professional experience for nursing students.
Clinical skills: There are basic skills that every nurse must know: CPR, how to start an IV, inserting a catheter, and more. This environment ensures nurses are proficient and ready to care for real patients.
Critical thinking: Nurses learn how to interpret, analyze, evaluate and act on important information about a patient in order to provide the highest-quality care possible. Strong critical thinking skills can mean life or death to a patient.
Familiarity with real-life healthcare settings: The simulation center will use state-of-the-art equipment and technology commonly found in real-world healthcare settings. This not only provides an authentic experience but prepares nurses to make important equipment decisions after graduation.